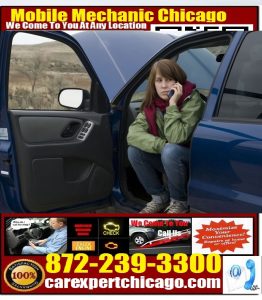 Mobile Mechanic Chicago auto Car Repair Service near me call 872-239-3300 & onsite pre purchase foreign used vehicle inspection review & roadside assistance We can come or travel to you at the house, at your job, at your business office place, on the side of the road, or any parking lot to fix your domestic or European German vehicle on spot by certified technician.
Apart from experience and skills, our technicians have access to the most extensive training in the industry. On top of that, we only employ mechanics who are ASE-certified for all areas of automotive repair and maintenance.
In case the car cannot be repaired at the roadside, we tow it to our shop to fix it right away.
Full list of road assistance/services we provide
– Vehicle battery replacement
– Dead battery jump starting/battery boost
– Emergency repair
– Vehicle lock-out services
– Fuel delivery services
– Extrication and winching
– Towing services
– Flat tire change and other services
– Minor mechanical first aid
– Radiator water delivery
Other auto repair services we offer include:
– Brakes adjust/pads
– Alternators
– Cooling system repair
– Starter replacement
– Oil/lube change
– Clutch replacement
– Tire sales, installation, and repairs
– Mobile fabrication and welding
– Hydraulic system
– Electrical system
– Wheel seal
– Brake chamber repair
– Water pump repair
Do you need tires for your vehicle? Rest easy as we have a large selection or tires for you. We source our tires from the best manufacturers in the world, which is testimony for how much we care about you and your vehicle. Below is a detailed list of the tire services we offer:
– Mobile or at our tire repair shop in Chicago.
– Wheel alignments which we offer mobile or at our shops.
– Tire pressure checks both mobile or at our tire shop.
– Tire mounting both mobile or at our tire repair location.
– Snow tire installation both mobile or at our shop.
– Wheel balancing both mobile or at our shop.
– Tire rotation both mobile or at our shop in Chicago.
Other benefits of our auto repair and maintenance services:
– Friendly towing bills
If you are driving somewhere in Chicago and your vehicle breaks down, you will have to call a car towing shop. Most shops will charge you a hefty amount for this service. This is unnecessary if your vehicle can be repaired where it broke down. We will save you from this bill by sending a mechanic to repair your vehicle where it is, and incase it has to be towed, then we will charge you a reasonable amount.
– Mobility
Since we offer mobile auto repair services, you can call us from anywhere in Chicago and at any time to cater for your vehicle's issue. This is very convenient especially if you are stuck is a fairly remote area.
– Competitive rates
We offer competitive rates for mobile auto repair. This is because we understand your pain and do not want to add on it.
– Prompt and efficient service
When you call us for help, we respond promptly and deliver help efficiently. Promptness and efficiency is important because we understand that you need to get back to your business without unnecessary delays.
– Guaranteed repairs
Our mechanics will not leave until they have fixed your vehicle and ensured that it is drivable again.
Your vehicle can break down when you least expect it and in a remote location. When this happens, make sure you call us for high-quality mobile auto mobile repair in Chicago.
Determine the Functionality of the Car
The value of a used vehicle highly depends on its functionality. Even as a mechanically inclined individual, you need the services of a mobile auto inspection professional to determine the functionality of the vehicle. an experienced mechanic should take the vehicle for a test drive and determine its roadworthiness.
Your safety as a driver and everyone else's on the road will be determined by the capacity and safety features of your vehicle. If the vehicle has a faulty brake system, for instance, it might prove hard to control it while you are on the road. Computerized diagnostics will reveal all the information you need to establish the functionality of the vehicle.
Bargain for a Better Price
A thorough scrutiny of the vehicle will reveal problems if the vehicle has any. Depending on the extent of the problems identified, you can choose to walk away from the deal or decide to bargain for a better price. Having a pre-purchase inspection on a car allows you to negotiate with the seller for a more affordable price.
Consider suggesting to the seller to cater for the repairs before you purchase the vehicle. Some of the common problems in used vehicles include;
Frame damage that might be due to a serious road accident. If the damages are still showing, it means the car was not effectively repaired after the accident. The wheels also tend to pull to one side as you drive the vehicle and this will ultimately lead to premature tire wear.
Poor previous repairs will also be evident from an extensive auto inspection. Sloppy bodywork and a poorly done painting job will easily be indemnified by a professional mechanic. Other areas that may suffer due to poor repair are the engine as well as other major accessory installations
Flood and fire damages due to previous accidents can be got from a history report of the vehicle. In case the report was falsified and these details were left out of the report, a professional mechanic will easily come to this conclusion.
Vehicle's Worth
The only way to determine a vehicle's worth is to have a professional mechanic inspect it. The condition of the vehicle will determine if it is worth the price the dealer is selling it for. Even though it is a second-hand vehicle, you should spend your hard earned money a vehicle that will serve you for an extended period.
This Mobile Chicago Pre-purchase car inspection Review has revealed the importance of scheduling a pre-purchase vehicle inspection. Working with mobile auto inspection service providers offers you convenience and efficiency.
It may strike you to know that your foreign machine requires totally different attention from a homemade one. First it is with the country specifications that bring about the difference, and then comes manufacturer preferences. It could be with the brake system or the timing belts but the skill and tools required are completely different. Take your foreign car to the regular mechanic and you will regret ever buying it in the first place. Worry no more for we have invested in mobile foreign car repair service Chicago Illinois with you in mind. We have the tools and expertise to work on any car system without the slightest scratching of the head.
Why you Need a Go-to Automobile Mechanic
The benefits of hiring a mobile car repairer are endless. With a trusted dealer in mind, you always drive with peace of mind knowing someone will come to your rescue in case you get stuck. This will save you extra expenses incurred when a breakdown has to pull you to the nearest care center. Since we regard your inconvenience as our duty, our mobile foreign car repair service Chicago Illinois and its environs are always timely.  It saves you time and possible agony if you just give us a call whenever you get a breakdown.
Establishing a specific dealer to always handle your car saves you money in numerous ways. Substandard car mechanics take advantage of the panic car users undergo during a breakdown to charge them higher fees. Since they are not expecting you to make a repeat client, chances are that even the repairs done will be substandard. One-time mechanics may even exchange quality components with imitations without the knowledge of the car owner. On the other side, contacting us is a guarantee that your automobile will be fixed in the most professional manner possible.
A mechanic's relationship with an automobile is analogous to the social relationships we make among ourselves. The more you interact with your spouse or peers, the more you get to know their personality. At the same time you get to identify unique characteristics that will not even replicate among twins. Giving us a chance to interact more with your car serves the same purpose. Consequently, we get in a better position to offer preventive maintenance before the machine gets stuck in the middle of a highway.
Exceptional Customer Service
In addition to professionalism in handling your car, we highly value customer relations and do our best to maintain them. We are humbled to notice that most of our perennial customers are equally attracted by our exceptional customer service. We understand the inconveniences that come with automobile repair and allow our clients flexibility of payment. We take the responsibility of your breakdown so you continue with daily activities free of stress. Make us your go-to mechanic today to experience a difference with your automobile.
Onsite Mobile Auto Mechanic Service Nearby around your area like: Chicago Cook County, Illinois, Amf Ohare, Cicero, Oak Parks, Berwyn, Forest Parks, Elmwood Park, River Forest, Lincolnwood, Riverside, Hines, Evanston, Maywood, Lyons, Harwood Heights, River Grove, Bedford Parks, Summit Argo, Broadview, Melrose Park, Brookfield, Hometown, Skokie, Evergreen Park, Burbank, Bellwood, La Grange Park, Stone Parked, Franklin Parks, Westchester, Oak Lawn, Bridgeview, Schiller Parkes, Morton Grove, Hillside, Park Ridge, Niles, Justice, La Grange, Berkeley, Wilmette, Chicago Ridge, Golf, Western Springs, Hickory Hills, Kenilworth, Alsip, Worth, Elmhurst, Des Plaines, Whiting, Blue Island, Willow Springs, Hinsdale, Palos Hills, Riverdale, Glenview, Winnetka, Glenview Nas, Bensenville, Oak Brook, Robbins, Palos Heights, Techny, Villa Park, Posen, Dolton, Willowbrook, Clarendon Hills, Midlothian, Wood Dale, Glencoe, Hammond, Palos Parks, Westmont, Harvey, Addison, East Chicago, Calumet City, Lombard, Northbrook, South Holland, Mount Prospect, Oak Forest, Darien, Elk Grove Village, Downers Grove, Orland Parks, Itasca, Prospect Heights, Arlington Heights, Lemont, Wheeling, Deerfield, Rolling Meadows, Gary, Buffalo Grove, Palatine